Wine Lovers and Budding Oenophiles Invest in Our Wine Centers
Wine Lovers Invest in Our Wine Centers
Once you've developed a taste for the varying types of wines, you'll realize that they taste better when they are kept at their perfect temperatures—temps that aren't always the same as the foods in your kitchen refrigerator. Plus, you're likely tired of reaching behind your sodas and sparkling waters to access your favorite vintage. The solution: GE Wine Centers.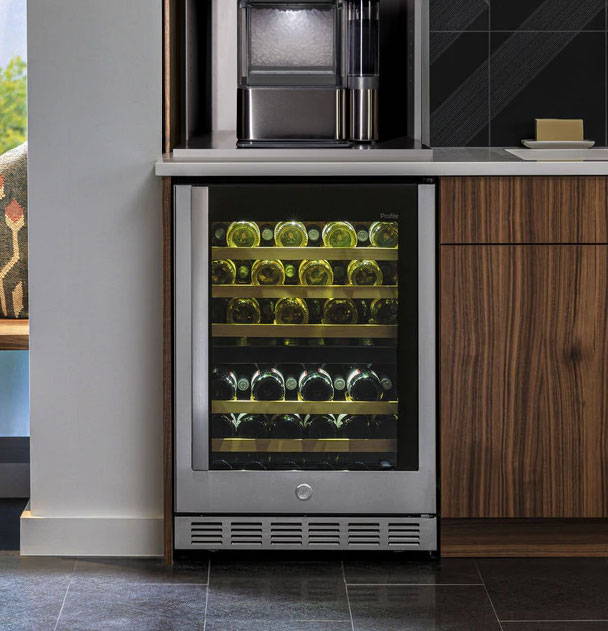 Our wine centers are designed to fit under cabinet in your kitchen, bar, or entertainment room or they also work well as freestanding appliances.
Some wine fridges include a lock and key mechanism to keep your rare bottles safe and others feature a door alarm, so the door is never left open too long.
Easy-to-use electronic controls allow you to set the perfect temperature for your collection whether it be white, red, or both.
The GE Wine Center holds up to 31 bottles behind its stainless steel door with glass window. Inside, you'll find five handsome, sturdy, genuine oak shelves—three are full depth and two are half depth.
Its 4.1 cu. ft. of capacity provides ample space for wine and other beverages if you so choose. Inside you can fit drinks standing or stored flat within the racks.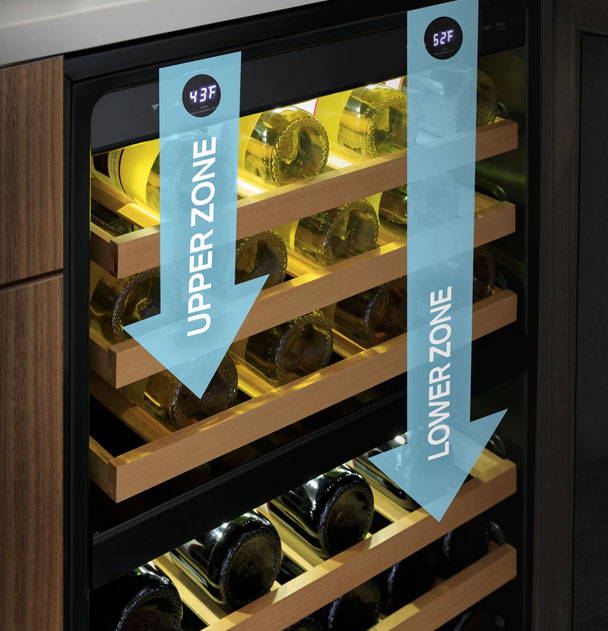 One step up for storage is our GE Profile Series Wine Center at 4.8 cu. ft. capacity. This wine chiller holds up to 44 bottles of your favorite wines inside its modern design with stainless trim and tinted glass door with sleek handle. The six wooden racks inside slide easily to allow you to view and load your wines, and the recessed LED lighting helps you see every label clearly.
Our GE Profile Wine Center also features two distinct temperature zones that maintain temps between 43 and 62 degrees F, so your reds and whites are always kept at their perfect temperature.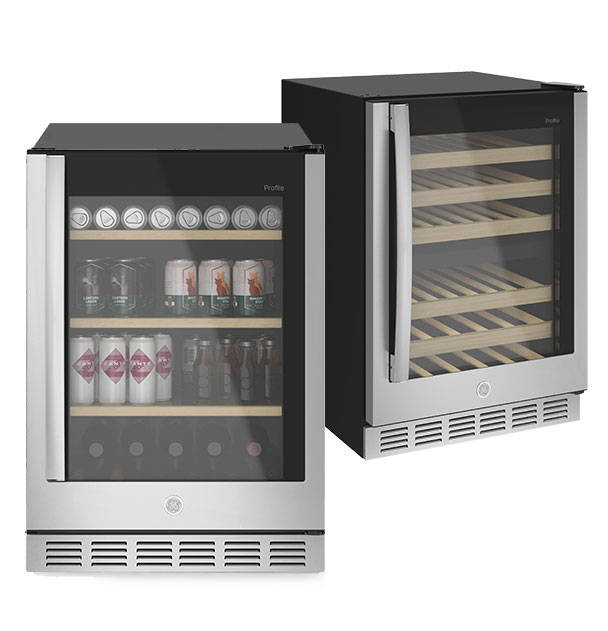 Whether you're a seasoned wine lover who collects rare vintages for special occasions or a newly interested wine drinker who keeps a variety of wines on hand for meals and entertaining, you're sure to love our reliable, convenient wine centers in your home.
Shop our selection of wine refrigerators to find one perfect for your tastes.