HONEY-DRIZZLED CHEESE AND APPLE HAND PIES RECIPE
Honey-Drizzled Cheese & Apple Hand Pies

These sweet and savory hand-held pies are easy to make and taste amazing! The combination of farmers cheese (like goat cheese only not as tangy), apple, raisins and walnuts is stuffed into puff pastry and baked until golden brown and crisp on the outside and melty on the inside.


8 ounces farmer's or goat cheese (about 1 cup firmly packed)
2 eggs
¼ cup raisins
2 tablespoons toasted walnuts, chopped
½ teaspoon fine sea salt
2 tablespoons all-purpose flour
1 package puff pastry sheets (2 sheets), thawed
2 small apples (Pink Lady or Honey Crisp) peeled, cored, and thinly sliced
3 tablespoons honey, divided
Cinnamon (optional)
Set the oven to Convection Bake OR Traditional Bake at 400°F. While the oven is heating, line a baking sheet with parchment paper. Stir the cheese, 1 egg, raisins, walnuts, 1 tablespoon of honey and salt in a bowl. Beat the other egg in a small bowl.
Sprinkle the flour on the work surface. Place 1 pastry sheet on a work surface. Press or roll the pastry sheet into a 11x10-inch rectangle. Cut into 8 (2 ¾ x 5-inch) rectangles. Repeat with the remaining pastry sheet.
Spread about 2 tablespoons cheese mixture on each of 8 pastry rectangles to within ½ inch of the edge. Brush the edges with the beaten egg. Top each with 3 slices apple. Place the cut-out pastry rectangles over the filling and crimp the edges with a fork to seal. Cut vents into the tops of the hand pies. Brush with the beaten egg.
Bake for 20 minutes or until the hand-pies are golden brown. Remove from the oven and immediately drizzle with the remaining honey and sprinkle with cinnamon, if desired. Serve warm.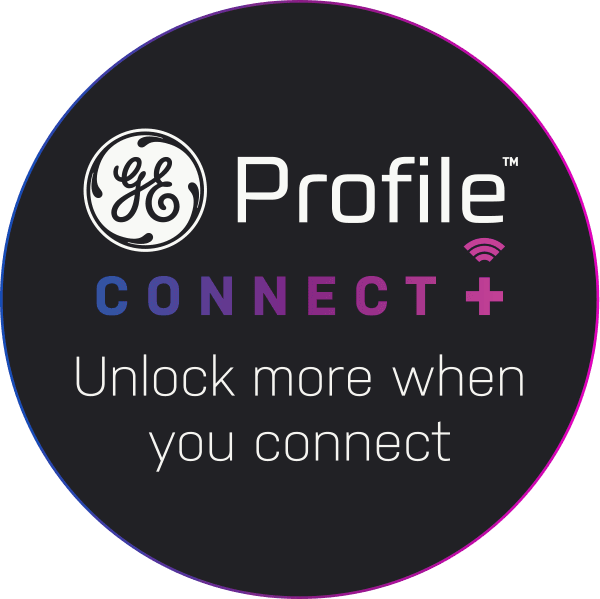 Unlock More with GE Profile Connect +
GE Profile Connect + ensures your smart appliance is always up to date. Simply connect your
appliance to your home WiFi through our free SmartHQ app to manage your smart appliance,
receive alerts, and download the latest GE Profile Connect + software updates as soon as they
are available.