Maple Mustard Salmon with Crispy Onions and Asparagus
Maple Mustard Salmon with Crispy Onions and Asparagus

Maple Mustard Salmon with Crispy Onions and Asparagus is a sheet pan weeknight dinner that looks and tastes like a restaurant special, even down to the crispy onion served on top!


1 large Vidalia onion, cut in half and sliced to ¼-ince pieces (about 2 cups)
¼ cup all-purpose flour
¾ teaspoon fine sea salt
Olive oil cooking spray
4 fresh or thawed frozen salmon fillets (about 5 ounces each)
¼ cup grainy mustard
¼ cup pure maple syrup
1 tablespoon soy sauce
1 pound fresh asparagus or green beans trimmed or broccoli florets
Air-fry the onions up to 24 hours ahead. Place paper towels on the work surface. Arrange the onion on the paper towels and sprinkle with ½ teaspoon salt. Let stand for 10 minutes. Top with more paper towels and press down to remove some of the moisture from the onion.
Place the onion into gallon-size resealable plastic bag. Add the flour and remaining ¼ teaspoon salt. Seal the bag and shake to coat. Spray a baking sheet with the cooking spray. Arrange the onion in a single layer on the baking sheet. Coat thoroughly with cooking spray.
Place the baking sheet on a middle oven rack. Set the oven to Air-Fry at 400°F. Air-fry until the onion begins to crisp, 10-15 minutes. Let cool. Store in an air-tight container for up to 24 hours.
Stir the mustard, syrup, and soy sauce in a small bowl.
Spray a baking sheet with cooking spray. Place the salmon on the baking sheet and arrange the asparagus around the salmon. Season with salt and pepper. Brush the salmon with all but 2 tablespoons mustard mixture.
Place the baking sheet in the oven. Set the oven to Precision Cooking, Seafood, Salmon. Choose the level of doneness you prefer and follow the on screen prompts (The salmon will cook for 10 - 20 minutes).
Brush the cooked salmon with the remaining 2 tablespoons mustard mixture and top with the crispy onion. Place the baking sheet on a lower oven rack. Set the oven to Air-Fry at 300°F. Set the timer for 3 minutes.
Serve the salmon and asparagus with hot cooked brown rice, if desired.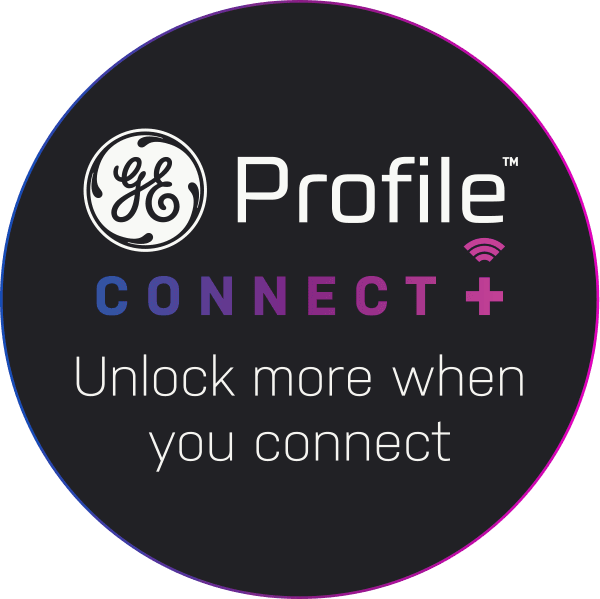 Unlock More with GE Profile Connect +
GE Profile Connect + ensures your smart appliance is always up to date. Simply connect your
appliance to your home WiFi through our free SmartHQ app to manage your smart appliance,
receive alerts, and download the latest GE Profile Connect + software updates as soon as they
are available.