SHEET PAN FILIPINO CHICKEN ADOBO
Sheet Pan Filipino Chicken Adobo

This recipe for Sheet Pan Filipino Chicken Adobo is something special. If you never thought to combine pantry staples vinegar, soy sauce and brown sugar in a marinade before, you're in for a surprise. This classic Filipino blend of tangy, salty, and sweet flavors the chicken and vegetables so perfectly, all you need to do is air-fry them together on a sheet pan and dinner is ready.


6 hours 40 minutes
(includes time to marinate)
1 cup white vinegar
½ cup soy sauce
2 tablespoons packed brown sugar
5 bay leaves
2 pounds bone-in chicken thighs
2 large red bell peppers, cut into 1-inch pieces (about 2 cups)
1 large sweet onion, cut in half and thinly sliced (about 2 cups)
Olive oil cooking spray
2 green onions, sliced (about ¼ cup)
Stir the vinegar, soy sauce, brown sugar, and bay leaves in a large non-metallic bowl. Add the chicken, bell peppers and sweet onion; stir to coat. Cover and refrigerate for 6 hours or overnight.
Spray a baking sheet with the cooking spray. Drain the chicken and vegetables in a colander and discard the marinade and bay leaves. Pat the chicken dry. Arrange the chicken and vegetables on the baking sheet, with the vegetables in the center. Season with salt and black pepper. Spray with the cooking spray.
Set the oven to Air Fry at 375°F. for 30 minutes. Place the baking sheet in the oven. Air-fry until the internal temperature of the chicken reaches 165°F. Sprinkle with the green onions and serve with hot cooked brown rice, if desired.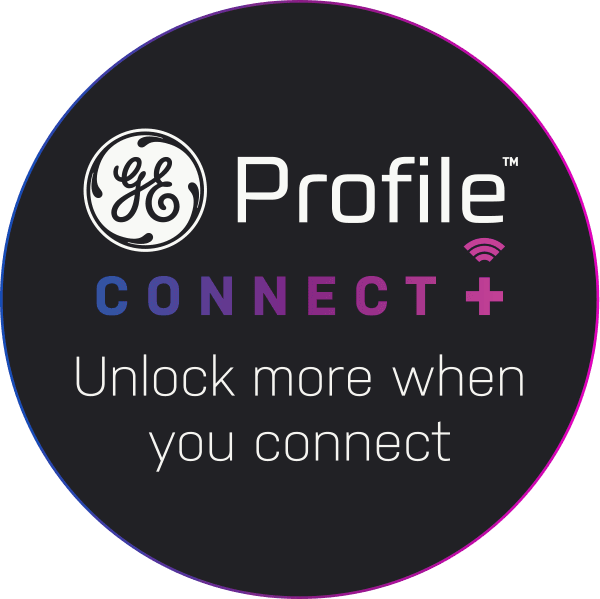 Unlock More with GE Profile Connect +
GE Profile Connect + ensures your smart appliance is always up to date. Simply connect your
appliance to your home WiFi through our free SmartHQ app to manage your smart appliance,
receive alerts, and download the latest GE Profile Connect + software updates as soon as they
are available.