Your GE Appliances Great American Grandma is ...

The Great American
Grandma
Search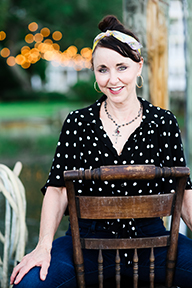 America is a land of fantastic Grandmas, Grannys, Nanas, Mimis, and Grans, and we've been lucky to meet hundreds of them as we've searched for our Great American Grandma. After an intensive search, we're excited to announce GE Appliances' official Great American Grandma: Ally Phillips!
Ally learned to cook from her grandmother, watching her make family meals on her own GE stove. Today, "Mama Ally," as she's known to her eight grandchildren, is always cooking up something new, creating unique recipes and feeding her family and anyone else who stops by her kitchen. She's raised four sons, earned a doctorate, competed on MasterChef, written a cookbook — and she's just getting started.
With her boundless energy, creativity, generosity and joy, Ally impressed everyone on our search committee, and she's ready to jump into the job. Tune in for more videos, recipes, projects, and collaborations with other Great American Grandma candidates.
See more about Ally and why she is GE Appliance's Great American Grandma:
Ally Phillips
Murrells Inlet, South Carolina
Congratulations to our 10 Finalists!
Darla Card
Harlingen, Texas
Sheila Chandler
Umatilla, Florida
Mamie Dupree-Hegwood
Milwaukee, Wisconsin
Andrea Florentine
Gibsonia, Pennsylvania
Tonya Godsey-Lowe
Louisville, Kentucky
Angelita Martinez
Kuna, Idaho
Ally Phillips
Murrells Inlet, South Carolina
Jill Ridge
Indianapolis, Indiana
Joyce Sutera
Lake Arrowhead, California
Lindita Torres-Winters
Aurora, Colorado
GE Appliances congratulates each of our 10 candidates. They, along with each of the hundreds of applicants for the position, are all Great American Grandmas.
Please continue to click through to each video, watch, then like, share or comment on your favorites to show them some love! (And you must be nice! Remember — Grandma is watching!)