5 Storage–Boosting Kitchen Pantry Ideas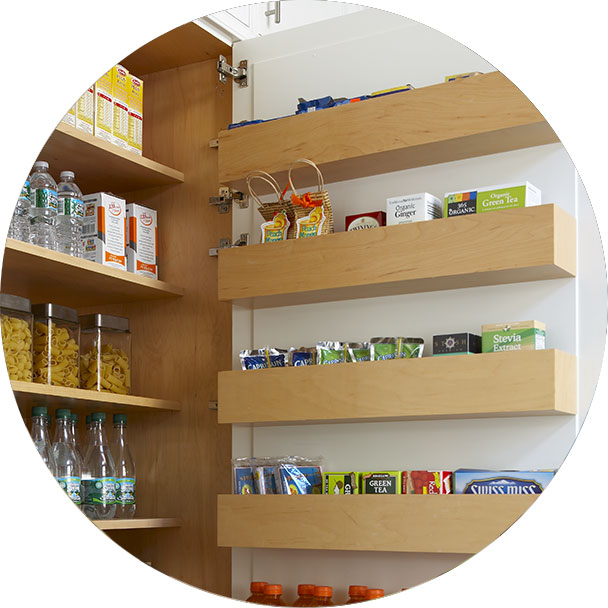 Transform your kitchen
with a pantry.
Wishing for more square feet to store kitchen essentials–but no room (or budget) for a real pantry? Here's how to get a kitchen pantry without a renovation or big bucks.
Add a stand–alone unit
A piece of repurposed furniture—a hutch or a bookshelf—can be tucked into a kitchen as a stand–alone kitchen pantry. Outfit shelves with simple baskets or drawers with dividers to make storage even more convenient. Labels are a good way to help keep a spot organized, too. (For example: Label a basket with "towels" to help friends and family quickly find and put away items.
Convert a small closet
Available in most big-box stores, wire shelving offers a quick DIY redo for a small closet. Storage in a closet depends on its placement; if it's part of the kitchen, it's perfect for canned goods and essentials such as flour. If it's a few steps away, stash household necessities such as paper towels or cleaning supplies. And don't forget the door: The back offers a good place for narrow shelves or an over-the-door unit (see tip below).
Add slide–out units
An underused section of kitchen cabinets can quickly transform into pantry–like storage for canned goods and boxed storage using slide–out drawers. Group food by type (soups, beans, etc.) for straightforward access, or stash cabinet overflow (that extra box of cereal) there, too.
Convert a section of an island
An island often serves as the hub of the kitchen, so it's a prime spot to add pantry–like features. If yours has open storage, stock those shelves with baking essentials, such as flour and sugar, decanted into pretty, clear glass containers. Narrow pots and pans might fit too.
Use the back of a door
Hanging multi–shelf units offer a good way to transform the back of a tall cabinet door into a pantry–like spot. Tuck canned goods or spices into these narrow nooks. You can also use a door shoe-storage piece on a tall door; stash odd–shape items such as rolls of plastic wrap in the narrower nooks.
Include both vertical and horizontal storage
Want to get the most out of a kitchen pantry? Make sure to include storage that's both vertical and horizontal. Then you'll have room to stash odd–shape items such as plastic wrap, shelf–stable boxes of juice, and more.
More Articles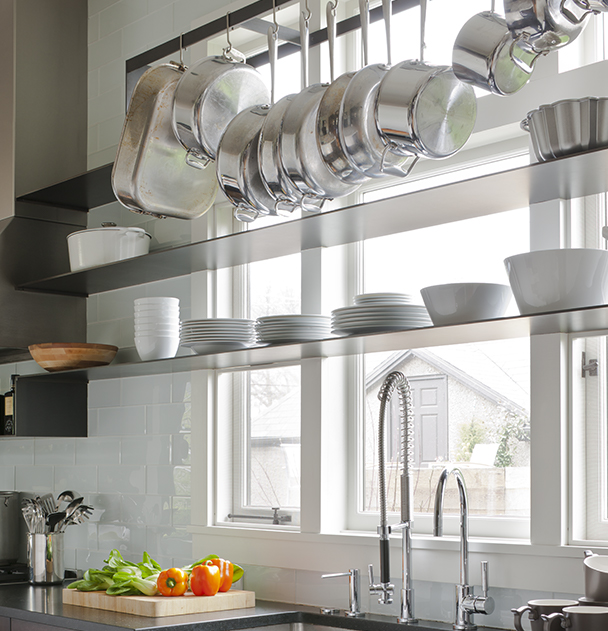 Pots and Pans Storage
Frustrated by the mishmash of your pots and pans storage? Keep them in good order with these effective storage ideas.