Air Fried Petite No-Knead Cinnamon Rolls

Homemade cinnamon rolls are easier than you think. A simple, no-knead dough and the power of the Air Fry oven mode makes these yummy cinnamon rolls a snap to make.


Dough
3 ½ cups all-purpose flour
2 teaspoons salt
3 teaspoons instant dried yeast
⅔ cup milk
⅓ cup water
2 large eggs
¼ cup honey
¼ cup melted butter
Filling:
½ cup butter, softened
1 ¼ cups packed dark brown sugar
2 ½ tablespoons ground cinnamon
Cream Cheese Icing:
4 oz cream cheese room temperature
1 cup powdered sugar
¼ cup butter room temperature
½ teaspoon vanilla extract
In a large bowl, combine flour, salt and yeast.
In a microwave-safe glass measuring cup combine the milk, water, honey, and melted butter. Heat in the microwave for 30-60 seconds until it is just warm, about 100°. Quickly whisk in the eggs.
Stir ¾ of the wet mixture into the dry to make a soft dough. Mix with a spoon until there are no dry patches of flour adding reserved liquid as needed. Only add enough liquid to bring the dough together. It should form a soft but not wet dough.
Cover the bowl with plastic wrap and let it rise for 2 hours at cool room temperature. It should triple in size.
After the first rise, refrigerate the dough for a minimum of 8 hours or preferably overnight. Dough can be refrigerated for up to 3 days. Divide dough into half before proceeding to next step.
Transfer half of the dough to a lightly floured work surface and roll into a rectangle approximately 1/4" thick.
Spread the half of the softened butter onto the dough, leaving a narrow margin around one long edge.
Combine brown sugar, cinnamon and a pinch of salt. Sprinkle dough with half of the brown sugar mixture.
Starting with a long edge, gently roll the dough into a log. Don't roll it too tightly. Slice the rolls 2" thick.
Place rolls in an 8" round baking pan lined with parchment. Leave room for the rolls to expand.
Cover the pan and allow the rolls to rise until they're puffed, about 30 minutes to an hour.
Air Fry at 375°, for 20 minutes until cinnamon rolls are a deep golden-brown color.
While cinnamon rolls are in the oven, make the icing. In a large bowl beat the cream cheese, butter, powdered sugar, and vanilla together until well combined.
Remove the pan from the oven and let it cool for 15 minutes. Once cooled, spread half of the cream cheese icing over the cinnamon rolls and serve immediately.
Chef's Notes: This recipe makes enough dough for two batches of cinnamon rolls. The dough will keep in the refrigerator for up to 3 days. You can prep cinnamon rolls through the cutting stage and store them in the refrigerator for 2 days or freeze them.
Freeze cinnamon rolls in a pan, wrapped in plastic. When ready to bake, let the dough thaw in the refrigerator overnight, then place rolls in a warm spot for 30 minutes to 1 hour before baking. Air Fry as directed.
This recipe was created specifically for our GE Profile Ranges and Ovens with No Preheat Air Fry Mode. Method and results may differ on other air fryers.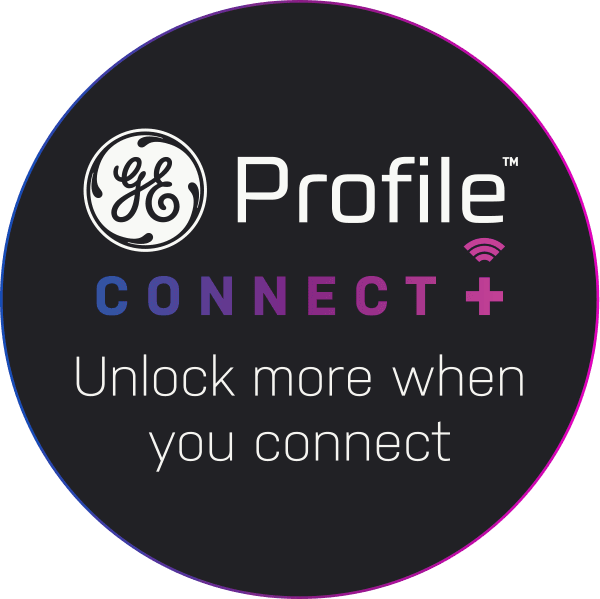 Unlock More with GE Profile Connect +
GE Profile Connect + ensures your smart appliance is always up to date. Simply connect your
appliance to your home WiFi through our free SmartHQ app to manage your smart appliance,
receive alerts, and download the latest GE Profile Connect + software updates as soon as they
are available.