Shop, Buy, Wash, Dry: A Buying Guide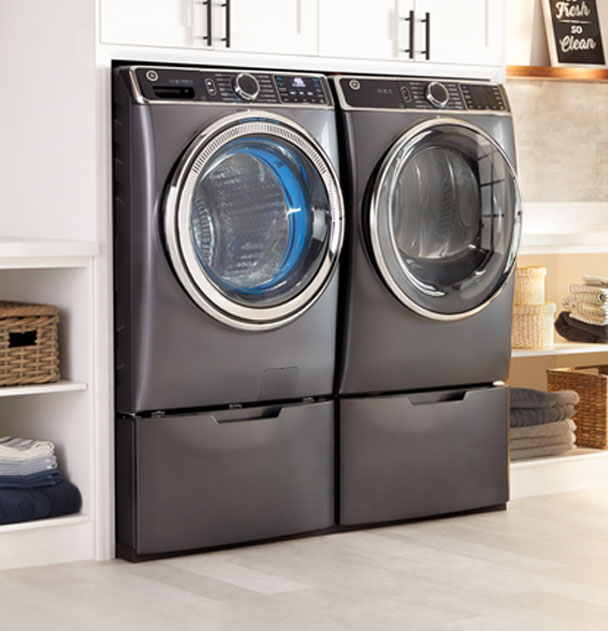 Top tips to help you find
the best washer and dryer
You love your washer and dryer—but one day you'll need new laundry appliances. What should you focus on when you shop? We've got answers.
Washers
Front-load vs. Top-load
Comfort, capacity, and space are the biggest considerations with top-load and front-load designs.
Comfort: Front-load machines may require more bending and reaching.

Inner workings: Front-loading washers use a tumble method versus an agitator; this may require less water but have a longer wash cycle.

Capacity: Front-loaders offer drums with a capacity ranging 4 to 5 cubic feet. Top-load capacity is reduced by the agitator. Any increased drum size and capacity equals a bigger machine.

Size: Traditional washers (and dryers) are 27 to 28 inches wide and 30 to 35 inches deep; height can vary. Plan for 6 inches of space between the machine and the wall and 1 inch between machines.
Pro tip: Before shopping, measure the doors and stairwells in your home to be sure a new machine will fit.
Term to Know: High Efficiency (HE)
While all front-load washing machines are high-efficiency (HE), some top-load machines—the ones without agitators—are HE models. Overall, most HE washers:
Use about half the water

Have larger capacities

Spin faster

May remove more water and cut drying time

Have a longer wash cycle (they're designed to tumble-clean your clothes and rely on less water in the process)
The Extras
Manufacturers are adding lots of innovative features to laundry appliances. Here are a few:
Automatic dispensers that add detergent, bleach, and fabric softener at the appropriate time; some machines hold months' worth of detergent. (Tips for finding the right laundry detergent, fabric softener and more.)

An extra rinse cycle to help get rid of pet hair, stubborn messes, and detergent residue.

A stainless-steel tub to withstand higher spin speeds, which extract more water and cut drying time.

A built-in sink or multiple washer tubs to help pre-treat stains and wash small loads of delicates.

Mobile apps and voice control via digital personal assistants.
Take our guide with you: Download our handy washer-dryer shopping guide.
Dryers
All dryers are front-loaders. A dryer's large drum capacity provides space for wet laundry to expand as it dries. Traditional dryers (and washers) are 27 to 28 inches wide and 30 to 35 inches deep. Newer machines, with higher capacities, may be larger.
Pro tip: Plan for 6 inches of space between the machine and the wall and 1 inch between machines.
Gas vs. Electric
No matter the energy source, performance tends to be similar; however, electric dryers remain the most popular.
An electric dryer requires a 240-volt outlet.

A gas dryer needs a 120-volt outlet and a gas hookup.
Term to Know: High Efficiency (HE)
Today's dryers keep drying times to a minimum (saving energy and preserving fabrics) by relying on moisture sensors instead of thermostats—thus the term high-efficiency. A moisture sensor detects how wet the laundry is and adjusts drying time accordingly. If you frequently dry smaller loads, the clothes may not touch the sensor frequently enough, so you may need additional drying time. (You can help prevent this by using a timed-dry cycle for small loads.)
Space Savers
Not every household needs a washing machine that holds more than a dozen full-size bath towels. Compact washers:
Typically offer a 2.3 cubic feet capacity (and can fit about 6 bath towels)

Are generally 24 inches wide, between 33 and 34 inches tall, and 24 to 29 inches deep

Usually stack with the dryer on top (stacking parts may cost extra)
Stackability
If stacking is your jam—because of limited square footage or preference—compact machines are not your only option. Full-size front-load washing machines have doors and control panels on the front, and many have optional stacking kits so you can install a dryer on top.
Start shopping for a washer and dryer with our printable guide.