MEASURING FOR A NEW WALL OVEN


Determine What Size Wall Oven You Can Fit in Your Space

Our newest line of wall ovens will give you the latest styles and innovative features to help you create masterful meals and modernize your kitchen. But before you can find the perfect replacement for your single or double oven, you'll need to take a few minutes to note the measurements your current wall oven and the cabinet cutout where your oven will be installed. This little bit of pre-work can save you a mountain of headache, and is essential for a quick and trouble-free replacement.
Before You Get Started...

Go to your home's main circuit box, and look for breaker to your oven. Make a note of the amperage. Your new oven cannot exceed this amperage without a new circuit breaker and wiring.
Shut off the power to your wall oven by turning off the circuit breaker.
---
Phillips head screwdriver
Tape measure
Replacement tip sheet
Measure the overall height and width of your wall oven and note the measurements on your reference sheet.
Next, open the oven door and locate the screws in the frame that secure the oven to the cabinet.
Then remove each one using your screwdriver. Remove any trim pieces to avoid damage to your cabinetry.
Measure Cabinet Cutout Dimensions

Carefully pull the oven forward approximately 1 - 2 inches, without pulling on the oven door. Be careful! Ovens can weigh over 200 pounds, so for your safety, do not pull the oven more than a couple of inches.
Measure the distance across the top and bottom of the oven from the left and right edge of the cabinet cutout. Note the measurements on the reference sheet.
Measure the distance along each side of the oven - from the top to bottom edge of the cabinet cutout. Note the measurements on the reference sheet.
If you can, measure depth of the cabinet cutout from the front edge to the back wall.
Carefully push the oven firmly back against the cabinet.
Reinstall the screws in the frame to secure the oven to the cabinet.
Turn the oven's power back on at the circuit breaker.
You're now ready to shop for your new wall oven!
Nothing in this article is intended to replace, modify or change in any manner either the Installation Instructions or the Use and Care Manual that accompany each GE® appliance product. For more detailed guidance please consult the Installation Instructions and the Use and Care Manual for this wall oven. Failure to follow the Installation Instructions for this appliance can result in improper installation, damage to the product, and/or a risk of personal injury.
---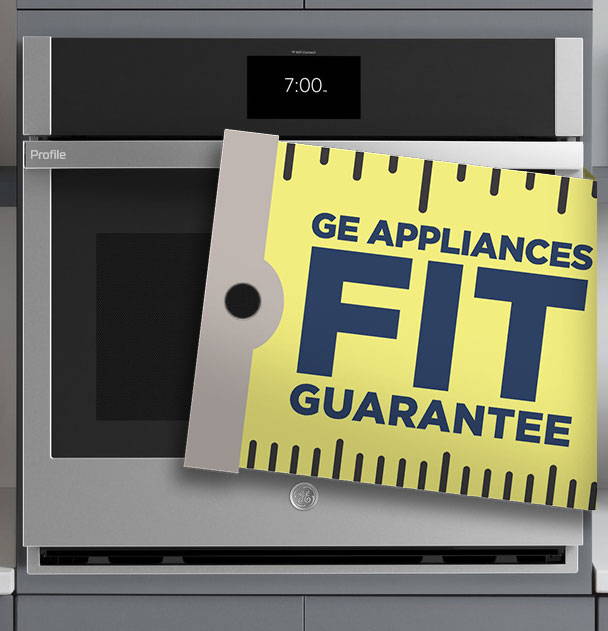 Replacing a similar wall oven from GE Appliances or another brand? Our GE Appliances wall ovens are guaranteed for an exact fit to make replacement easy.
See offer criteria and details
---