Top Tips for Using In-Oven Turkey Mode
Top Tips for Using In-Oven Turkey Mode
Our engineers designed Turkey Mode to be simple, so you can cook a great turkey with minimal effort. You can just unwrap your thawed turkey, remove any extra pieces in the cavity, place it on the pan, insert the probe and go. You don't need to brine it, coat it with anything, season it, cover with foil, or baste to get a great result.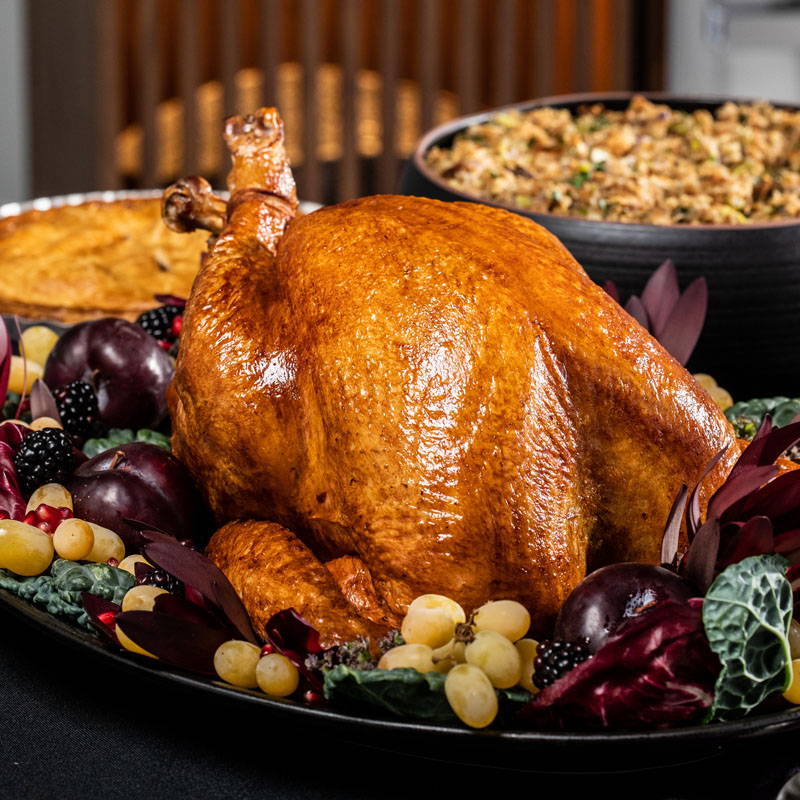 Of course, we have compiled some tips to help you get the best results when using Turkey Mode. To begin, if you purchase your turkey frozen, be sure to allow time for it to thaw completely before cooking. Turkeys take several days to thaw in the fridge. If it's not completely thawed, you may end up with an underdone turkey. If your probe indicates a turkey temperature less than 38°F when you insert it to begin cooking, your turkey may still have some icy spots and may need extra time to thaw.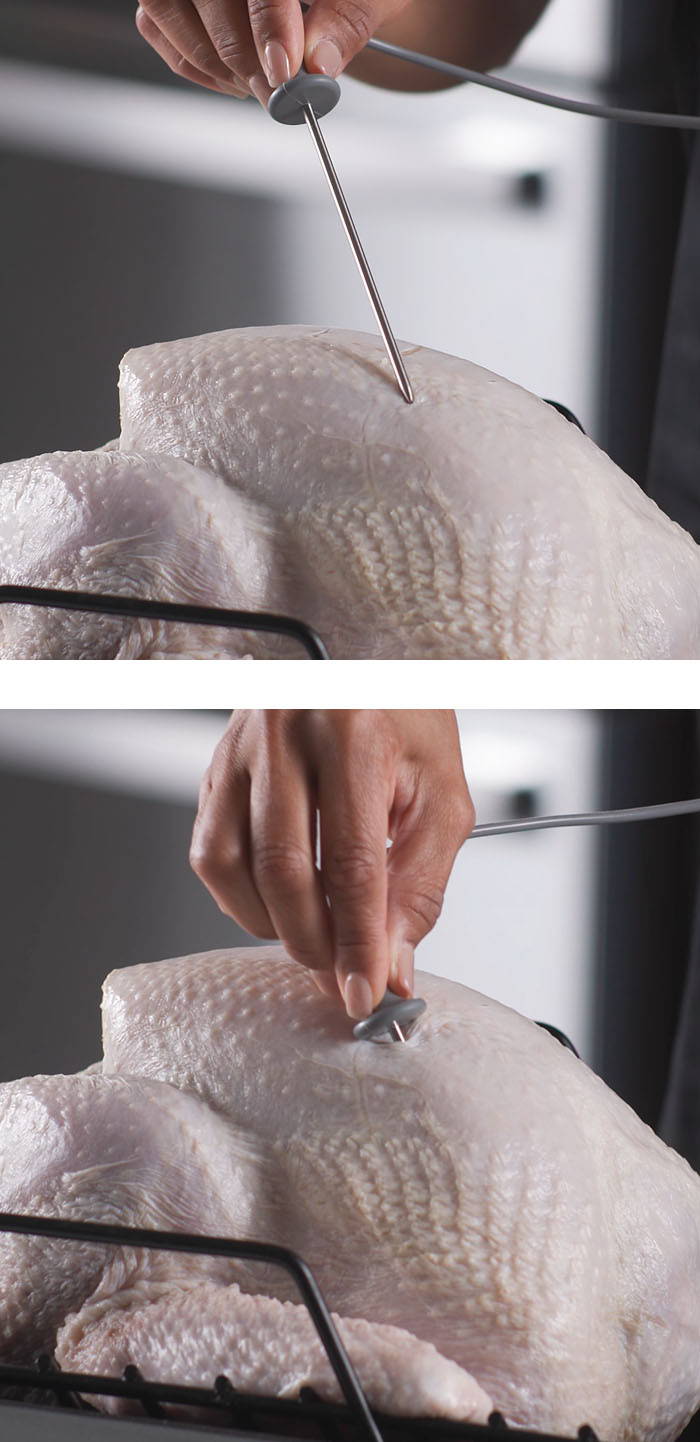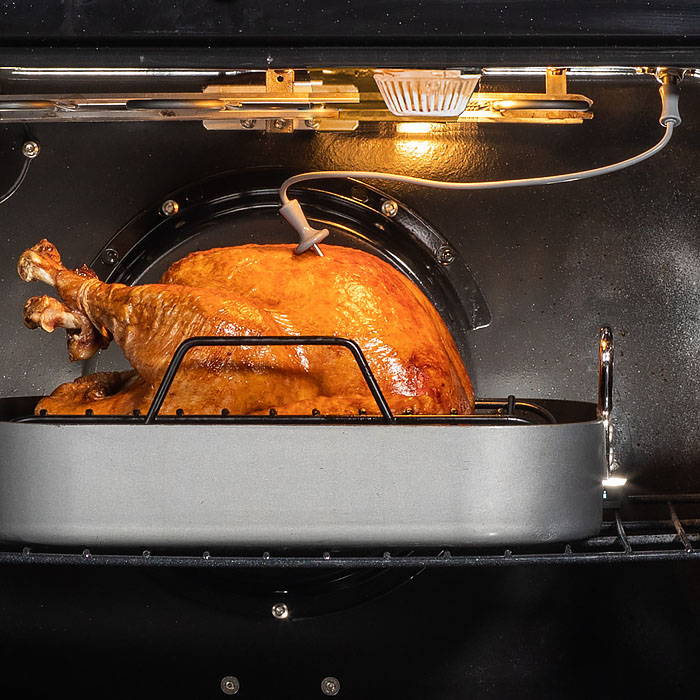 Probe Placement
They key to achieving a delicious turkey using Turkey Mode is to be sure you properly place the probe. The probe measures temperature inside your turkey, so having it in the thickest part of the breast ensures that it measures the slowest heating part of the bird. That way, it knows even the thickest piece of meat has reached optimal temperature.
Follow these easy instructions to achieve the best bird:
Probe tip should be inserted into the deepest part of the turkey breast.

Push the probe as far down into the turkey as possible without touching the bone. The gray handle should touch the skin of the turkey.

Pay attention to the angle of the probe—the tip should be placed in the thickest part of the turkey which is the slowest heating spot.

The probe tip should not point outwards, touch the turkey cavity, or poke through to the surface of the turkey.

When placing your pan in the oven, refer either to the SmartHQ app or the LCD screen for rack placement. Generally, it should be placed low in the oven.

Turn your pan if you need to—the probe wire should not be strained.

For added assurance your turkey is ready, double check the turkey with a second thermometer to ensure that all spots are properly cooked. According to your doneness preferences you may continue cooking your turkey under the same settings. If you canceled the Turkey Mode, you can always restart it.
NOTE: Some outside cooking sources suggest probing turkeys in other locations such as the thigh. GE Profile Turkey Mode works by having the probe inserted into the breast, so it's very important to follow the instructions we provide and not those from other sources. The temperature at which we indicate the turkey is done is based on breast meat, so if the probe is positioned in dark meat your bird may not be fully cooked.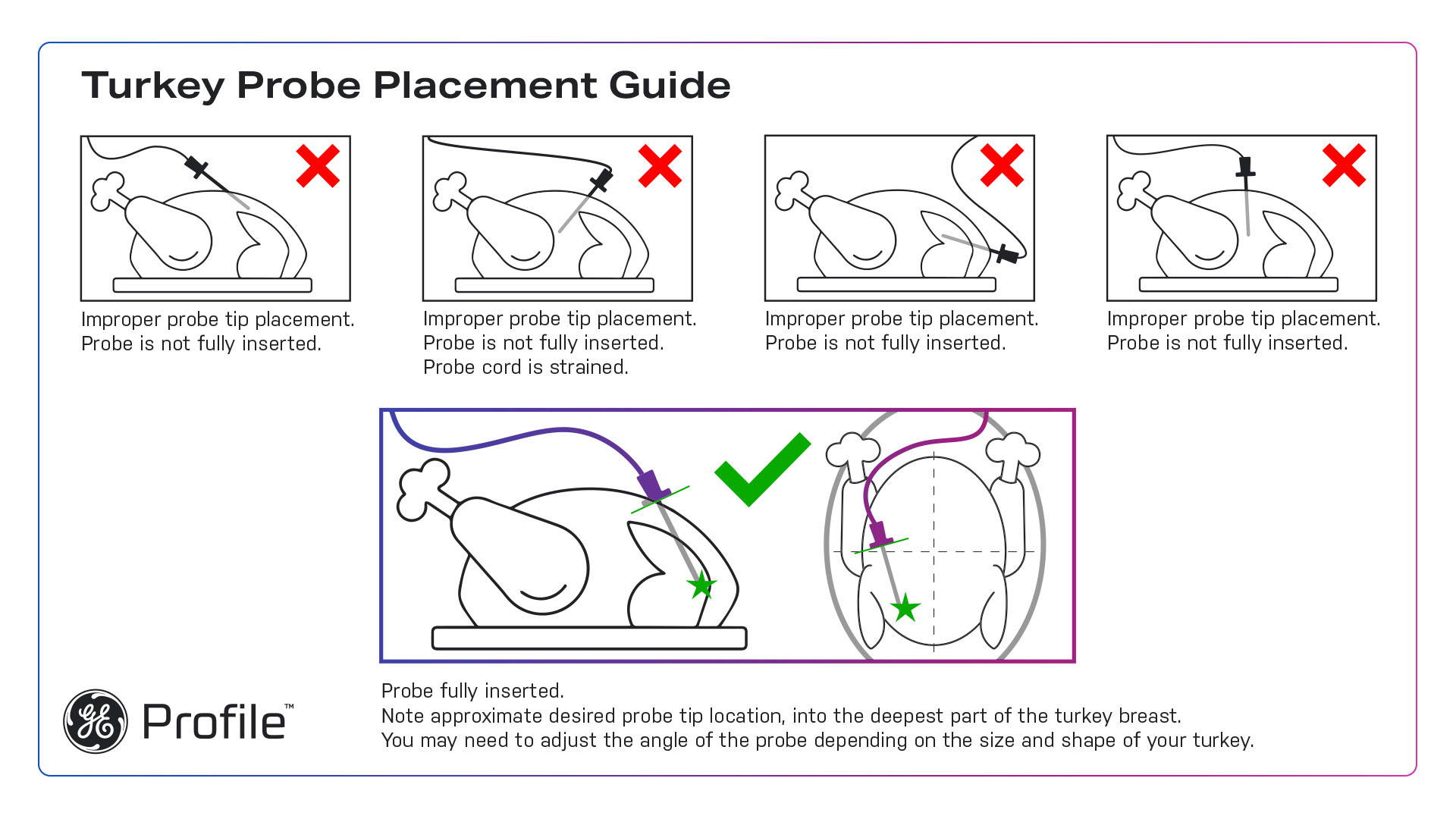 Cooking Pan
We recommend placing your turkey in a roasting pan with a rack or a broil pan with a grid so the turkey can sit above any juices released during cooking. Tip: Use the juices released into the bottom of the pan to make gravy when you're done.
Flavor Enhancing
For those who prefer a more involved preparation, Turkey mode works great for that, too. You can brine, add seasonings, butter the skin, or stuff the cavity.
Seasonings and/or oil or butter can be applied to the skin. However, oiled skin may result in extra or uneven browning. If you do coat the skin with something, check the skin periodically and cover any parts that are browning too quickly with foil.

Brined turkeys may brown faster than un-brined turkeys. If you brine your turkey, it's a good idea to check periodically and cover it loosely with foil if it's browning too quickly.
For best results don't stuff the turkey. We recommend cooking your stuffing (or dressing) separately. If you do stuff the turkey cavity, be sure to check the stuffing temperature to ensure that it reaches a food safe temperature before serving.
Cooking Times
This table shows the estimated Turkey Mode cooking times based on the size of your bird. We recommend checking the turkey temperature with a second food or meat thermometer when your oven indicates it's done to confirm that it has reached at least 165°F.
If your turkey cooks much faster than what is indicated in the table below, that may mean the probe was not properly positioned.

If this happens, check the turkey temperature and if it's not at least 165°F, you'll need to put it back into the oven to cook until it reaches this temperature.
Expected Cook Time By Turkey Size*
It's best to let your turkey rest before carving. Resting the turkey gives the juices a chance to thicken so less juice will be lost when you slice it.
After removing the turkey from the oven and checking temperature, loosely cover it with foil and let it rest for 20 to 45 minutes.

A fully cooked, uncarved turkey will remain at a good serving temperature for quite a while after it's removed from the oven—and it will be easier to carve if it's cooled a bit. So, don't stress it if your turkey is finished before other dishes are ready.
On the Big Day
You can cook or reheat other foods at the same time as your turkey on Thanksgiving day. Follow these tips for best results.
Dishes with recommended baking temperatures between 300°F and 400°F can be baked at the same time as the turkey.

Expect anything with a recommended baking temperature near 350°F to bake in about the same time that the recipe calls for.

Foods with lower recommended baking temperatures would likely cook faster than recipe time and items with higher recommended baking temperatures might take longer than recipe time.
Foods placed very near the top of the oven may need to be covered to prevent overbrowning.
Countdown to Thanksgiving Planning Guide
Hosting Thanksgiving? Follow our timeline of tasks as we countdown to the big day. By starting key tasks early, you'll be able to enjoy your Thanksgiving with family and friends without being stuck in the kitchen all day.

1 Month Out
​Finalize your guest list and extend your invitations.

Start planning your meal with your guests in mind. Do you have any guests with food allergies or dietary preferences? Be sure to offer a variety of foods with something for everyone.

Don't forget to include your favorite holiday desserts.

3 Weeks Out
Gather all the recipes for dishes you'll be making and make a grocery list.

Divide the grocery list into perishable and non-perishable items.

Order your turkey or at least shop for it early.

2 Weeks Out
Do an inventory of your cookware, bakeware, serving pieces and dishware, if you need anything, shop for it now so you won't have to make any last-minute runs.

1 Week Out
Shop for all your non-perishable items.

If you're making our recipe for Flaky Herb Biscuits with Honey Butter, make your honey butter today, cover, and refrigerate.



2 Days Out
Gather all your serving utensils, serving dishes, and linens. Lay them out and make sure they are clean and ready to be used.

Buy flowers to create a simple centerpiece or plan how to layout and decorate your table.

Create labels for your serving dishes to specify what each will hold so you'll have them ready the day of.

1 Day Out
Begin your food prep:

Make your sides and refrigerate to be warmed up tomorrow. We recommend our Make Ahead Root Vegetable Au Gratin recipe.

Make your desserts and refrigerate. Tomorrow, you can warm them in the oven as needed.

Set the table, create your centerpiece, and determine where you will place your dishes.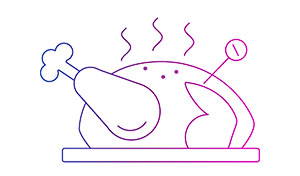 Time to prepare the turkey for roasting (following the Foolproof Roasted Turkey recipe or use our simple instructions with tips on using Turkey Mode).
After your turkey is roasted, use the drippings to finish making the Herbed Shallot Mushroom Gravy by following our recipe.

While your turkey is resting:

Once turkey has rested you can carve and place it on your platter.

Place your filled serving dishes on the table and enjoy!